Where to find the best Shisha in Dubai?
As you're strolling through Dubai, you'll soon notice places that emit a sweet-smelling smoke in the air. That's where you'll find a shisha bar! Shisha in Dubai is also known as hookah and it's an integral part of life in the UAE. Many Arabs use it as a gesture of hospitality, similar to the act of us offering tea or coffee.
Shisha goes beyond the pure act of smoking in Dubai, rather, it's a cultural norm; an activity used to bond, forge and cement friendships over chats and get-togethers. To help you narrow it down, we've listed the top places to enjoy Shisha in Dubai.
1. Smoky Beach, JBR
This is arguably one of the best locations for Shisha in Dubai. With part of the beach lined with beanbags on the sand, Smoky Beach is one of the few places in Dubai to offer shisha while you sunbathe – a perfect combination! Wait until the evening when Smoky Beach really comes alive with people scrambling to get a seat, and with opening hours until 4 am, you've got plenty of time to chill!
2. The Palace Courtyard, One & Only Royal Mirage
This destination is known for its two brilliant bars, the Rooftop Terrace and Jetty Lounge. However, if you want to experience a slightly more Arabic look and feel, then check out the Palace Courtyard; with carpeted stone floors, lit-up trees and outdoor heaters, this bar is a special gem for a relaxing evening of shisha in Dubai.
3. Shades, The Address Marina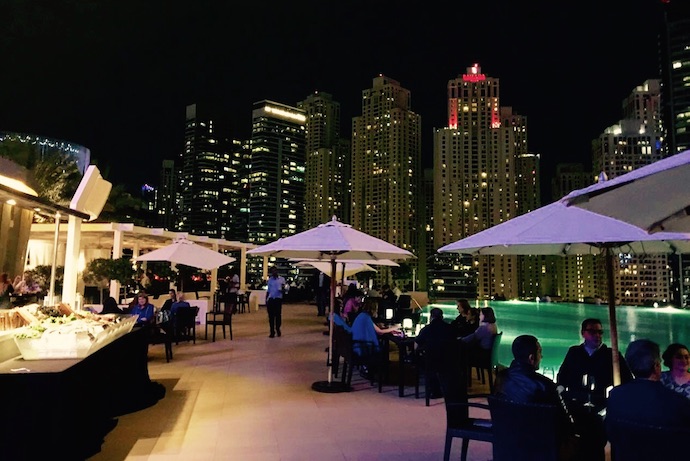 Shades is a stunning high-end shisha bar in Dubai. It's located on the roof with breathtaking views over the marina's boats and skyscrapers. You really are greeted with a unique view alongside which to enjoy a shisha. Filled with comfortable seating and the addition of a relaxing infinity pool accompanied by all-night tunes from the on-site DJ, it's the perfect location to enjoy Shisha in Dubai.
Can't travel to these incredible shisha destinations just yet? Why not get involved with Shisha at home in the UK. Contact us here at The Shisha Shop today – we've got a variety of hookah pipes available at whole sale prices for your lounge. This includes components such as shisha pipes, hoses, flavours and handy accessories like mouth tips.
The Shisha Shop, 11-13 Fairways Business Park, Lammas Road, E10 7QB London, United Kingdom
TEL: +44 20 8133 3263